A Little Taste of Where We Play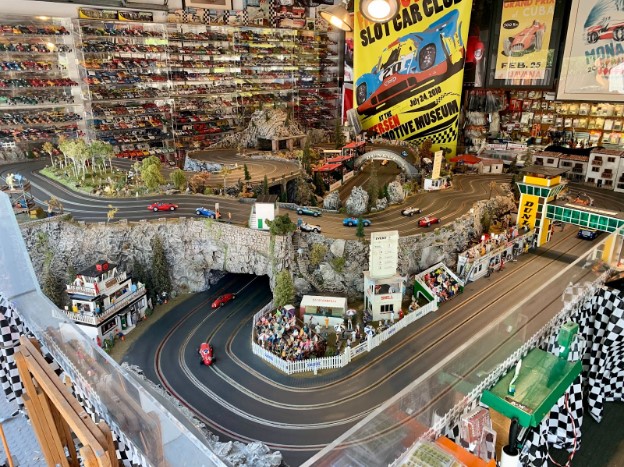 Hi! Welcome to our newly renovated website! Visible now is a fraction of future content!
FarrOut Slot Car Club
The FarrOut Slot Car Club races 1/32 scale slot cars on weekends in the Los Angeles area. We currently have 9 car classes that are raced on 9 different tracks over 25 Saturdays each calendar year, with an additional 4 Setup Days. The club focuses on fun, scale-realism and competition.

Founded in 2002 by our benevolent dictator, Stephen Farr-Jones, the club fills Stephen's vision of first-class slot car racing as a great weekend activity for people of all ages and competitive spirit. Fast loaner cars are provided at every race so that anyone can join in
Goals
1. Have fun!
2. Race 1/32nd scale slot cars of all makes – with an admitted strong bias towards cars that you can drive round a corner versus cars you can drive upside down on the ceiling i.e. as few magnets as possible which means none.
3. Don't let it get too serious.
4. Did we mention having fun?
Mission
The Farrout Slot Car Club races 1/32nd scale slot-cars of various makes, primarily in a ready-to-run, box standard, unmodified form.The main reason for racing mostly unmodified cars is to try to maintain close fun racing by having most cars be roughly of compatible capability and minimize the amount of time and cost needed to stay competitive with everyone else racing in the club. We have specifically chosen to, generally, avoid the slippery slopes of allowing modifications to cars in the areas of motors, magnets, gears, tires. Up until 2006 we also avoided weight but decided to allow it to balance the cars better in 2 of 9 classes. This is simply to try to maintain cars as close in performance to each other as possible, to make the racing as easy to join as possible and to minimize potential arguments over what is or is not legal.
At the end of the day the main goal is to have fun — not to spend 100 hrs to build a single car! You are able to participate in the club even if you own no cars. In all races and for all classes, loaner cars will be provided for you for the day. You are of course also welcome and encouraged to own and use your own cars, however it is not required.
page updated 01/09/2023