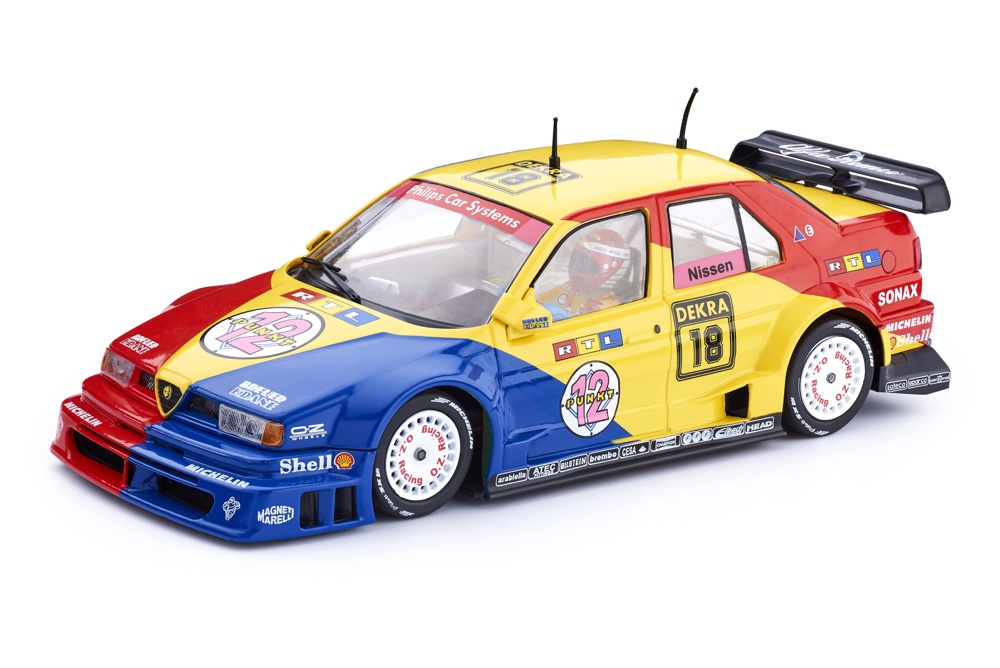 What You Need To Know – You must remove the magnet.  There are 5 core car types and 30+ liveries to choose from.
Motor: OEM Slot.it MX15 21K motor (black endbell) "S" can in in-line configuration only
Motor Mounts: As originally equipped only, motor pod P/N CH110
Front & Rear Tires: OEM Slot.it PT1228C1 are mandatory.

Note: some cars came with OEM Slot.it front tires PT1159C1. You can use those on the fronts of any car in this class only, as it saves time in truing down the fronts. All cars came with same front wheels
Glueing and truing tires allowed
No other compound other than the C1 compound is permitted. Note: the part number 1228 and Slot.it are imprinted on inside of tire wall
No zero traction or treated tires permitted.

Wheels: OEM Slot.it. All wheels should always have appropriate wheel inserts and are not permitted to run without them

Front wheels are plastic (Slot.It part number PA17-pl 15.8×8.2mm)
Rear wheels are aluminium (Slot.It part number PA24-als 15.8 x 8.2 mm)

Guide: OEM Slot.it guide CH66

Original OEM guides in shallow configuration are Slot.It part number CH06 (long shaft) and CH17 (short shaft). They are both legal (these were for use on older Scalextric Classic track which we no longer have in the club)
All other Slot.it and other brand guides are illegal including all Slot.it screw-in guides (specifically part numbers CH88, CH10, CH07, CH84, CH85). These are, generally, 28mm long and 8mm deep

Gears/Axles: OEM Slot.it

Gears: Pinion gear brass 9 tooth Slot.It part number PI09; Crown (spur) gear aluminium or bronze + yellow plastic 28 tooth Slot.It part number GI28-bz & GI28-al. No other parts are allowed
Rear Axle: OEM Slot.it steel Pro axles part number PA01-48. See also the motor mount section above. No other parts are allowed

Note: maximum rear tracking width is 60m (measured from outside of the tire walls). When viewed from above the tires must not be able to be seen outside the bodywork which means some cars cannot use the full width allowed by the regulations. Most cars cannot get to the full 60mm track

Front Axle: more recent Slot.it cars come fitted with a screw-based adjustable ride height system for the front axle

You are free to adjust these as you see fit
Your car must still adhere to the club standard rule of the front tires rolling when the car is on a flat setup block and gently pushed by your finger from the rear of the car (i.e. when no extra weight is applied to the front of the car)
All Slot.it Group C cars use Slot.it steel Pro axles part number PA01-48. No other parts are allowed from any manufacturer

Wires/Braids: OEM Slot.it. You are free to replace it with any brand. OEM are Slot.it braid part number SP14 and Slot,it wires part number SP22.
Bushings: OEM Slot.it spherical bushings (part number CH56). No other bushing is allowed in this class. This is one of only two classes to allow those spherical bushings, the other is Slot.it Gr.C
Ballast Weight: Not allowed
Magnet: must be removed and placed on nearest fridge
Lights: you are free to add lights (and you might get an extra half lap per heat if you add them!)
Chassis: Slot.it chassis as originally supplied only.
White Kits, Body Kits, Crashproof and Transparent Parts: Slot.it provides complete car and body kits in white plastic as well as crashproof and replacement parts for nearly all their cars. You are free to use them as you see fit although we would like any white bodies to be painted before you race them
Lexan Cockpits: Slot.it produces lightweight lexan cockpits for most of its cars. They are all illegal
Slot.it Spare Parts for Alfa Romeo 155. Most are identical across all cars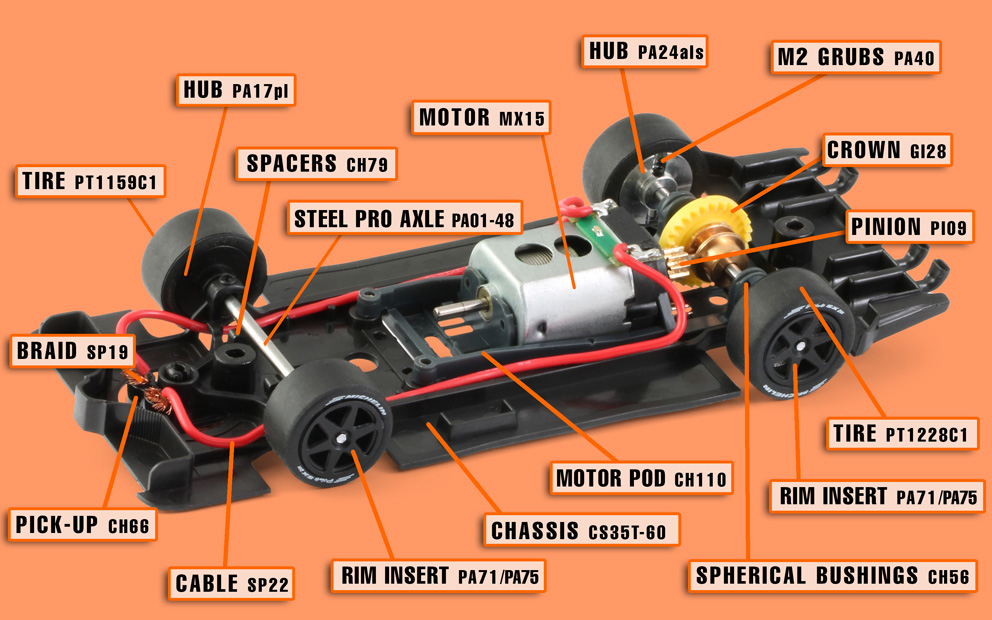 Eligible Cars – 5 core car types and 30+ liveries to choose from. The list below is in body style release order.
Alfa Romeo 155 V6 Ti DTM 1993
Alfa Romeo 155 V6 Ti DTM 1994
Alfa Romeo 155 V6 Ti ITC 1995
Alfa Romeo 155 V6 Ti ITC 1996
Mercedes 190E DTM 1991
Mercedes C-Class DTM 1994
Mercedes C-Class ITC 1996
​Opel Calibra DTM / ITC
Nissan Skyline GT-R Group A
Also eligible are hybrids: defined as any plastic or resin bodied period DTM / Group A cars running on one of the class eligible Slot.it chassis/ drive-train/ wheel /tire combinations.

The cars must specifically be approved in advance by Stephen (no exceptions and no other person can allow or disallow a hybrid car once it is approved);
The chassis must sit flush with the body of the car, as it is with all other class eligible cars;
The body must at minimum weigh the same as the average of the OEM class eligible cars. For this class that weight is 20 grams and any makeup weight must be added to the bottom of the driver pan, not the chassis.
Pictures of one example from each car eligible in the class are below this table. Pictures of currently for sale Slot.it car liveries can be seen by clicking on the part number link below or at www.slot.it. They also show ALL cars ever released regularly in their archive at http://slot.it/archive-2/ although the archive does not have all cars they made as small batches for various slot car championships around the world.
The table below the pictures shows all cars released to date. All weights shown are without magnet and with class legal tires. This table to be created
Alfa Romeo 155 V6 Ti DTM 1993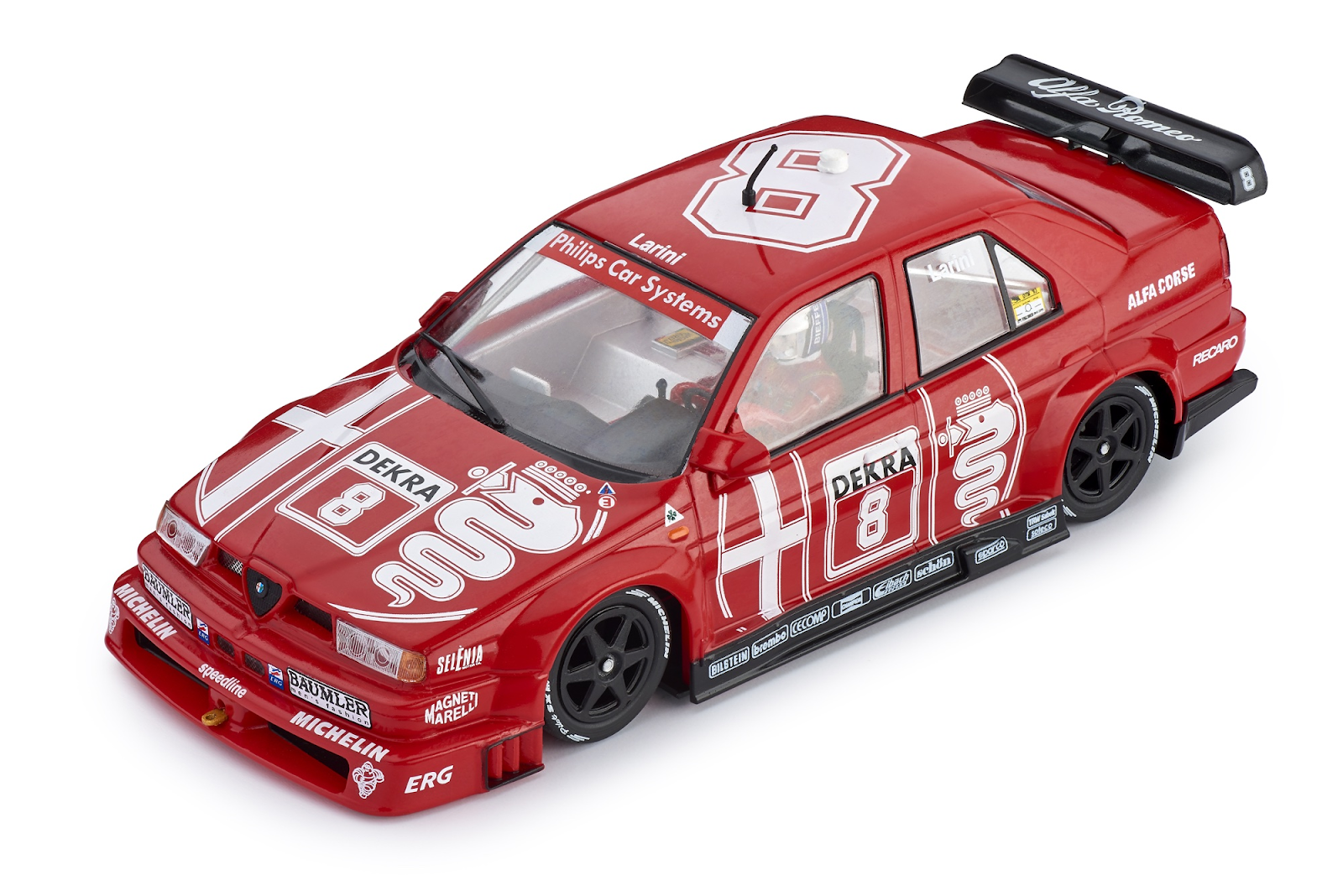 Alfa Romeo 155 V6 Ti DTM 1994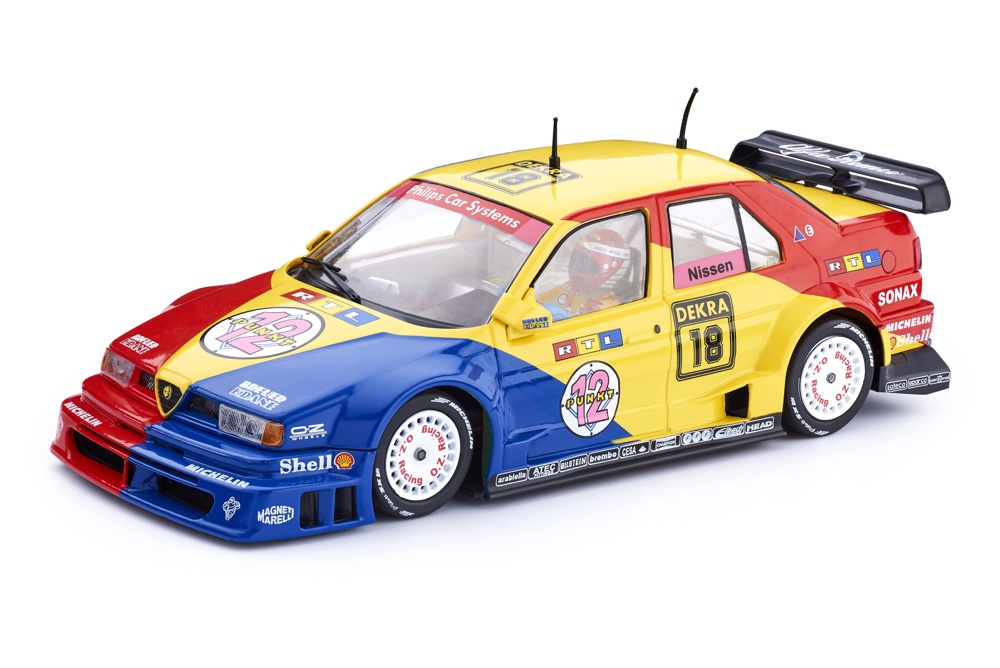 Alfa Romeo 155 V6 Ti DTM / ITC 1995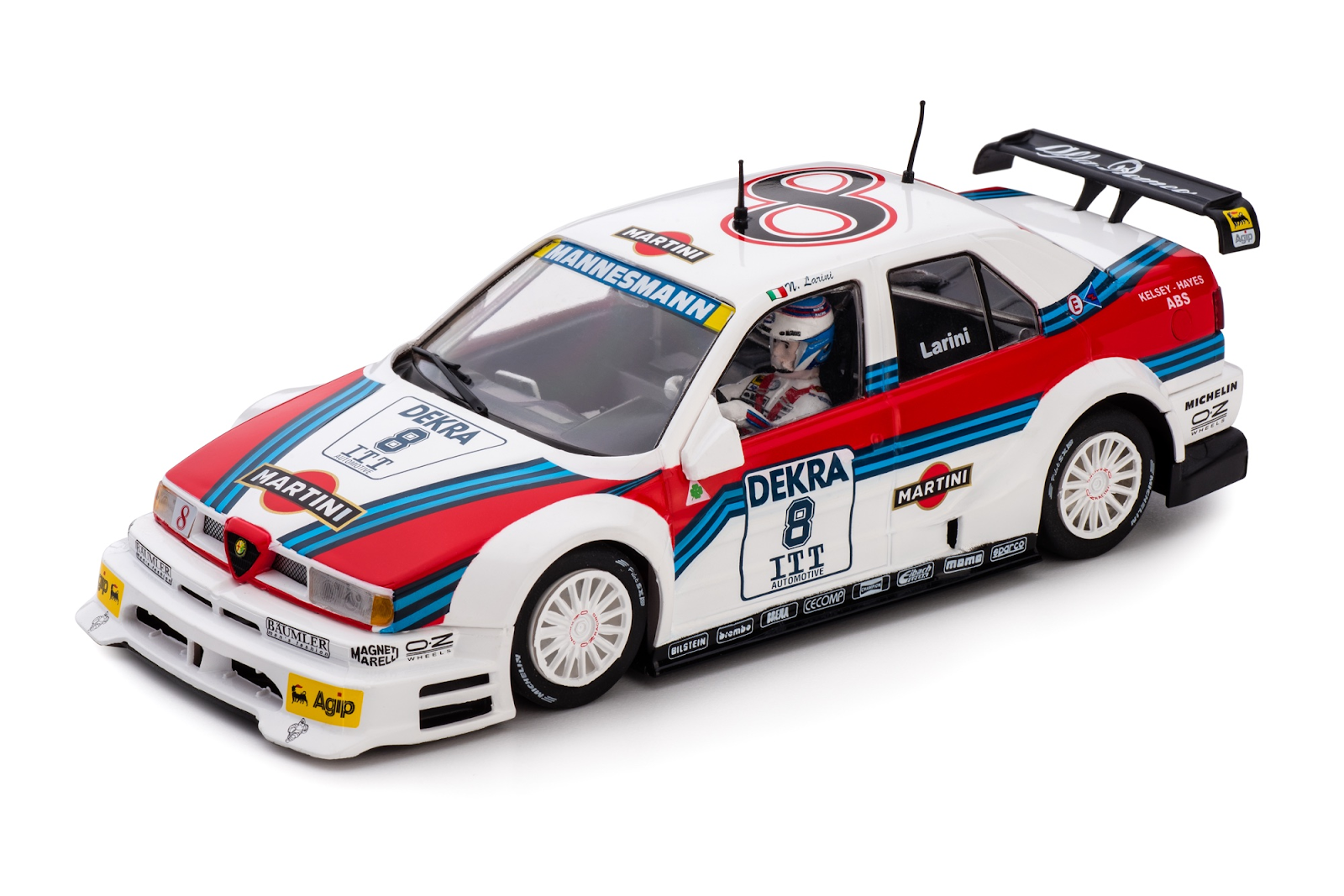 ALFA ROMEO 155 V6Ti ITC 1996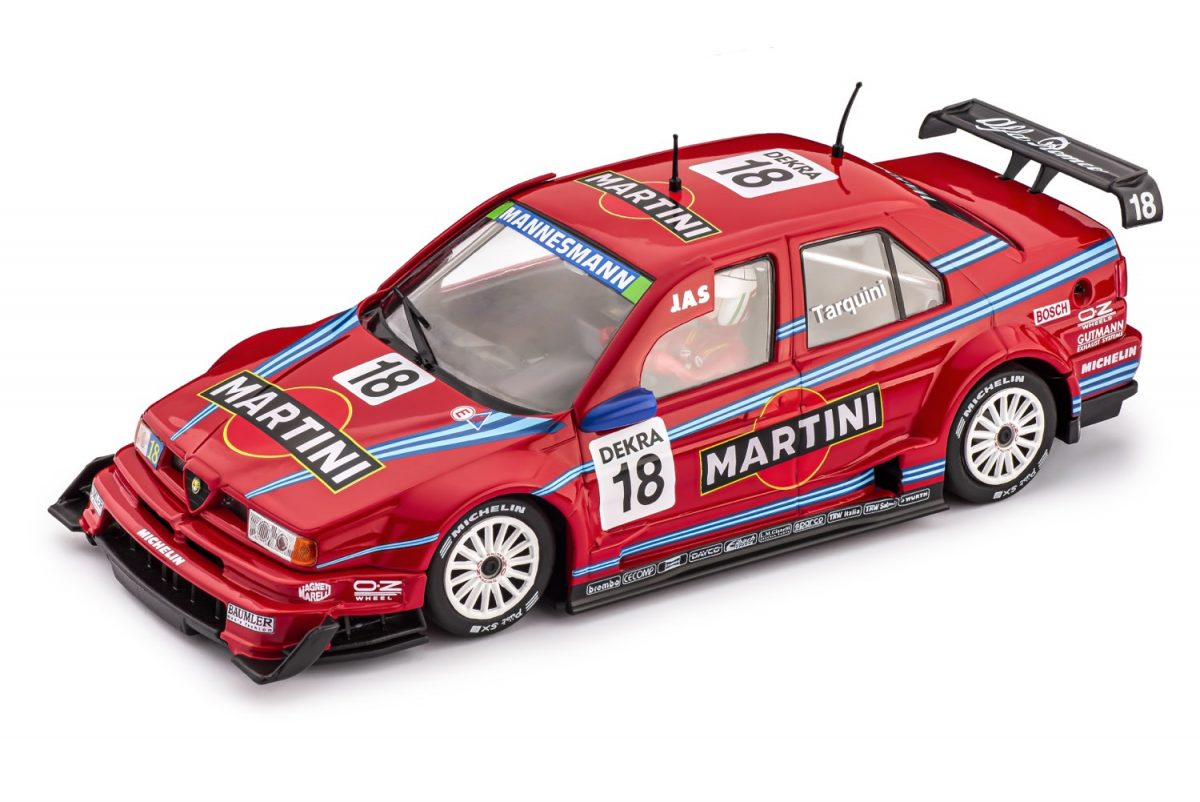 Opel Calibra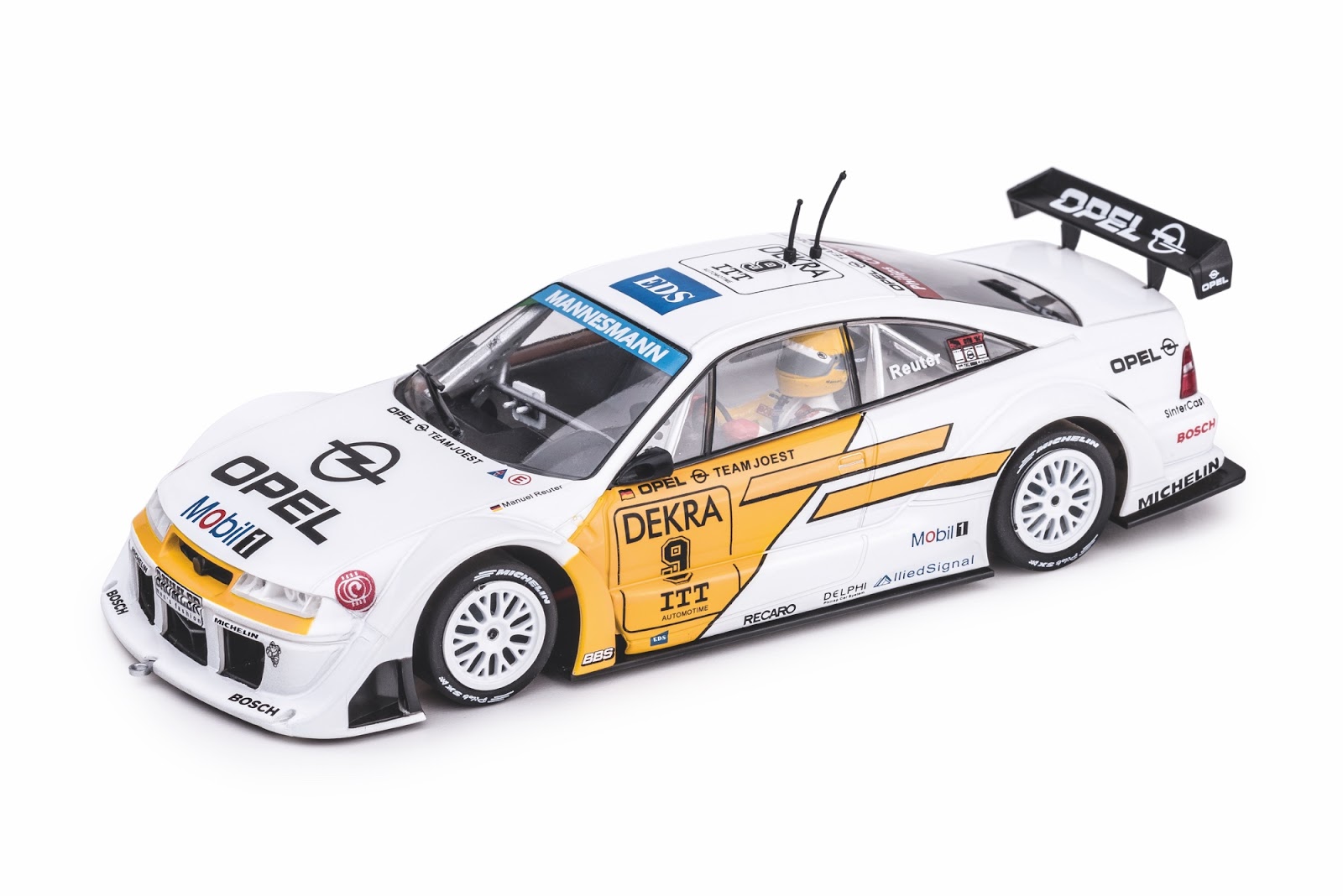 Mercedes 190E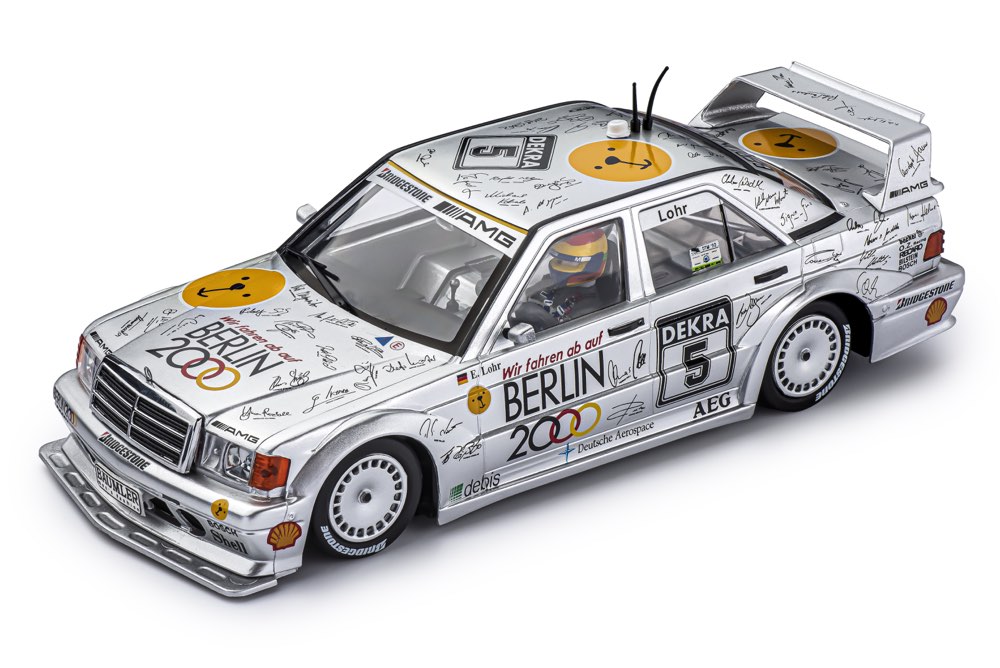 Nissan Skyline GT-R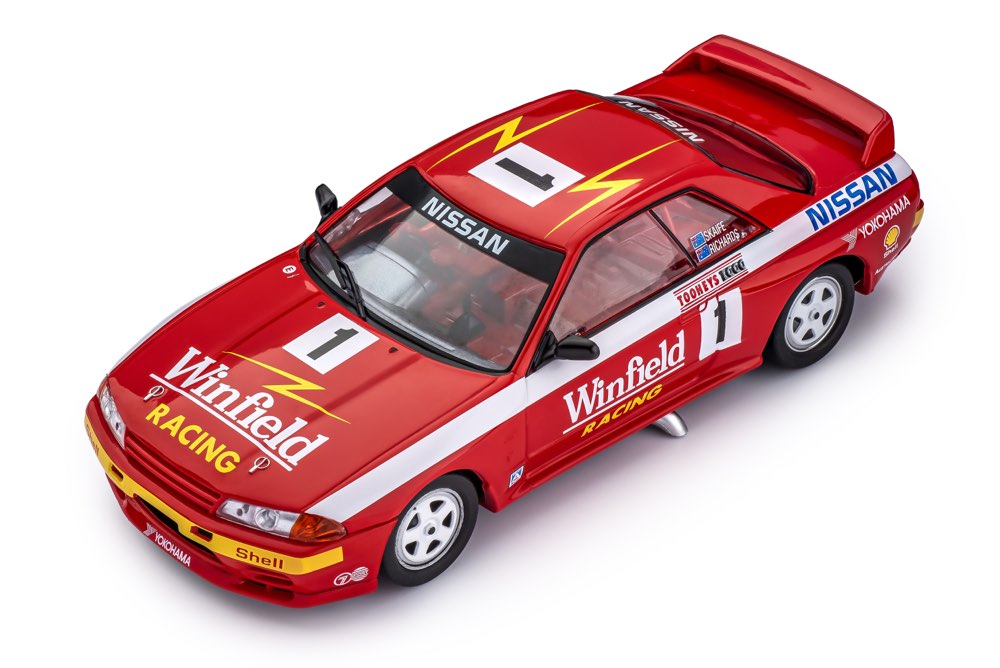 Mercedes C Class DTM 1994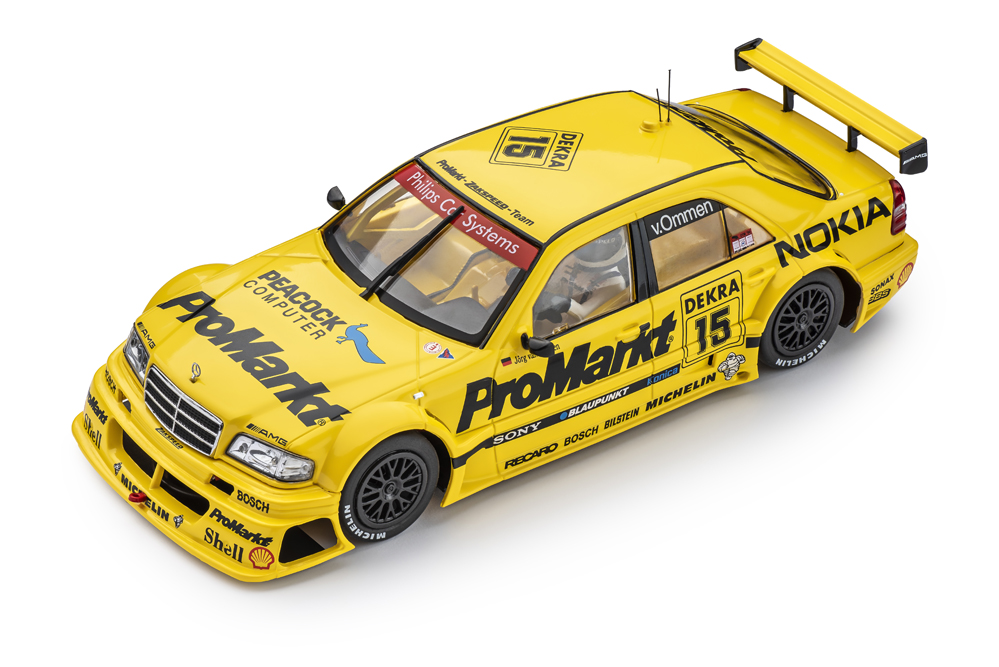 Mercedes C Class ITC 1996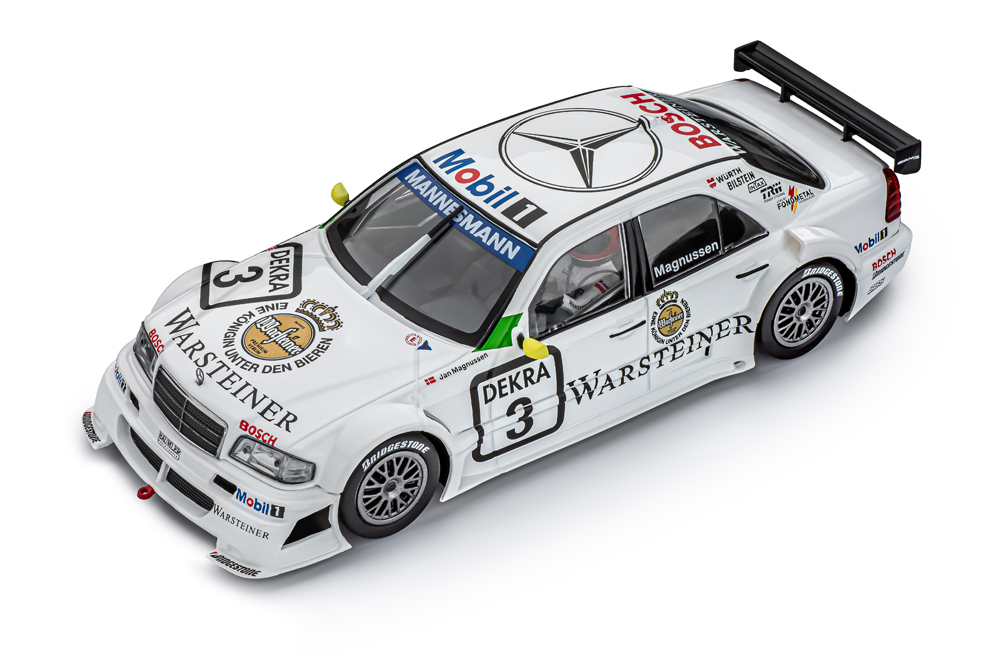 Slot.it DTM/Gr A 1983-94
Yr Intro
Code
Car/Livery
Color
Motor
Magnet
Alfa Romeo 155 V6 Ti DTM 1993 – 69 Grams – 58mm Track – 79mm Wheelbase – 93mm Guide/axle
20XX
CA35a
Alfa-Romeo No.7 DTM 1993 Alessandro Nannini Nurburgring Nordschleife
Red – White
MX15 V12/4
Yes
20XX
CA35b
Jagermeister DTM 1994 – Norisring / #27 – Michael Bartels
Orange
MX15 V12/4
Yes
20XX
CA35c
Alfa-Romeo No.14. DTM Donington Park 1994, Christian Danner
Red – White
MX15 V12/4
Yes
20XX
CA35d
Castrol No.26 Carsten Struwe Nurburgring 1994 DTM Engstler Motorsport
White
MX15 V12/4
Yes
20XX
CW22
Alfa Romeo DTM Winner 1993 / #8 – Nicola Larini
Red – White
MX15 V12/4
Yes
2016
Unknown
Alfa-Romeo limited edition, plain red no printing, for Gaydon 2016 UK Slot Car Fetstival
Red
MX15 V12/4
Yes
2018
CA35ab
Alfa-Romeo No.8 UKSCF 2018. This is a special edition car of only 100 for the UK Slot Car Festival 2018, the 8th annual slot car event.
Red – White
MX15 V12/4
Yes
20XX
RS0154
MX15 V12/4
Yes
20XX
CA35z
White Kit for self Assembly
White
MX15 V12/4
Yes
Alfa Romeo 155 V6 Ti DTM 1995 – 69 Grams – 60mm Track – 79mm Wheelbase – 94mm Guide/axle
20XX
CA40a
Martini DTM/ITC 1995 – Avusring / #8 – Nicola Larini
White – Red – Blue
MX15 V12/4
Yes
20XX
CA40b
McDonald's ITC 1995 – Helsinki #27 – Markku Alén
Red – Yellow
MX15 V12/4
Yes
20XX
CA40c
Antera #13 DTM/ITC 1995 Gianni Giudici
Blue
MX15 V12/4
Yes
20XX
CA40z
White Kit for self Assembly
White
MX15 V12/4
Yes
Alfa Romeo 155 V6 Ti DTM 1996 – 69 Grams – 60mm Track – 79mm Wheelbase – 97mm Guide/axle
20XX
CA45a
Bosch ITC 1996 – Silverstone / #19 – Jason Watt
White
MX15 V12/4
Yes
20XX
CA45b
Matini ITC 1996 – Mugello / #18 – Gabriele Tarquini
Red – Blue
MX15 V12/4
Yes
20XX
CA45z
White Kit for self Assembly
White
MX15 V12/4
Yes
Alfa Romeo 155 V6 Ti DTM 1994 – 69 Grams – 59mm Track – 79mm Wheelbase – 95mm Guide/axle
20XX
CA50a
RTL No.18 Zolder DTM 1994 – Kris Nissen. Team Schübel Engineering
White – Red – Blue
MX15 V12/4
Yes
​Opel Calibra DTM / ITC – 66 Grams – 59mm Track – 81mm Wheelbase – 94mm Guide/axle
20XX
CA36a
Opel DTM/ITC 1995 – Hockenheimring / #9 – Manuel Reuter
White – Yellow
MX15 V12/4
Yes
20XX
CA36b
ProMarkt #17 Klaus Ludwig winner Norisring 1996. Team Zakspeed
Yellow
MX15 V12/4
Yes
20XX
CA36c
Hasseroder DTM/ITC 1995 – Avus Ring / #2 – Keke Rosberg. Team Rosberg
Yellow – Blue – White
MX15 V12/4
Yes
20XX
CA36d
ITC 1996 – Diepholz / #25 – Alexander Wurz
Blue – White – Red
MX15 V12/4
Yes
20XX
CA36e
Opel Line ITC Mugello 1996 / #8 – Oliver Gavin
Blue – White
MX15 V12/4
Yes
20XX
CW23
Cliff DTM/ITC winner 1996 / #7 – Manuel Reuter
Black
MX15 V12/4
Yes
20XX
CA36z
White Kit for self Assembly
White
MX15 V12/4
Yes
​Mercedes 190E DTM 1991 – 68 Grams – 60mm Track – 82mm Wheelbase – 95mm Guide/axle
20XX
CA44a
Diebels Alt DTM 1992 – Zolder / #18 – Kurt Thiim
Green – Gold
MX15 V12/4
Yes
20XX
CA44b
Karcher Castrol DTM 1992 – Zolder / #12 – Jörg van Ommen
White – Yellow
MX15 V12/4
Yes
20XX
CA44c
Berlin Olympic Bid DTM 1992 – 1st Hockenheim / #5 – Ellen Lohr
Silver
MX15 V12/4
Yes
20XX
CA44d
Camel DTM 1991 – Kyalami / #3 – Roland Asch
Yellow
MX15 V12/4
Yes
20XX
CA44z
White Kit for self Assembly
White
MX15 V12/4
Yes
Nissan Skyline GT-R Group A – 70 Grams – 58mm Track – 81mm Wheelbase – 96mm Guide/axle
20XX
CA47a
Castrol 1990 – 1st Macau #23 – Masahiro Hasemi
Whitre – Red – Green
MX15 V12/4
Yes
20XX
CA47b
Calsonic 1993 – 1st JTC #12 – K. Hoshiro, M. Kageyama
Blue
MX15 V12/4
Yes
20XX
CA47c
Zexel #25 – '91 Spa Winner. Announced Not yet released
White
MX15 V12/4
Yes
20XX
CA47d
Winfield 1992 – 1st Balthurst 1000 #1 – M. Skaife, J. Richards. Gibson Motorsport
Red – White
MX15 V12/4
Yes
2023 Q2
CA47e
Nissan #1 – '91 Bathurst 1000 Winner. M. Skaife, J. Richards Gibson Motorsport Announced Not Yet released
Red – White – Blue
MX15 V12/4
Yes
20XX
CA47z
White Kit for self Assembly
White
MX15 V12/4
Yes
​Mercedes C-Class DTM 1994 – 71 Grams – 58mm Track – 86mm Wheelbase – 99mm Guide/axle
20XX
CA53a
ProMarkt DTM 1994 – 1st Hockenheim #15 – Jorg Van Ommen
Yellow
MX15 V12/4
Yes
2023 Q2
CA53z
White Kit for self Assembly
White
MX15 V12/4
Yes
​Mercedes C-Class ITC 1996 – 71 Grams – 58mm Track – 86mm Wheelbase – 99mm Guide/axle
20XX
CA54a
Warsteiner ITC 1996 – 3rd Interlagos GP #3 – Jan Magnussen
White
MX15 V12/4
Yes
Page updated 01/09/2023