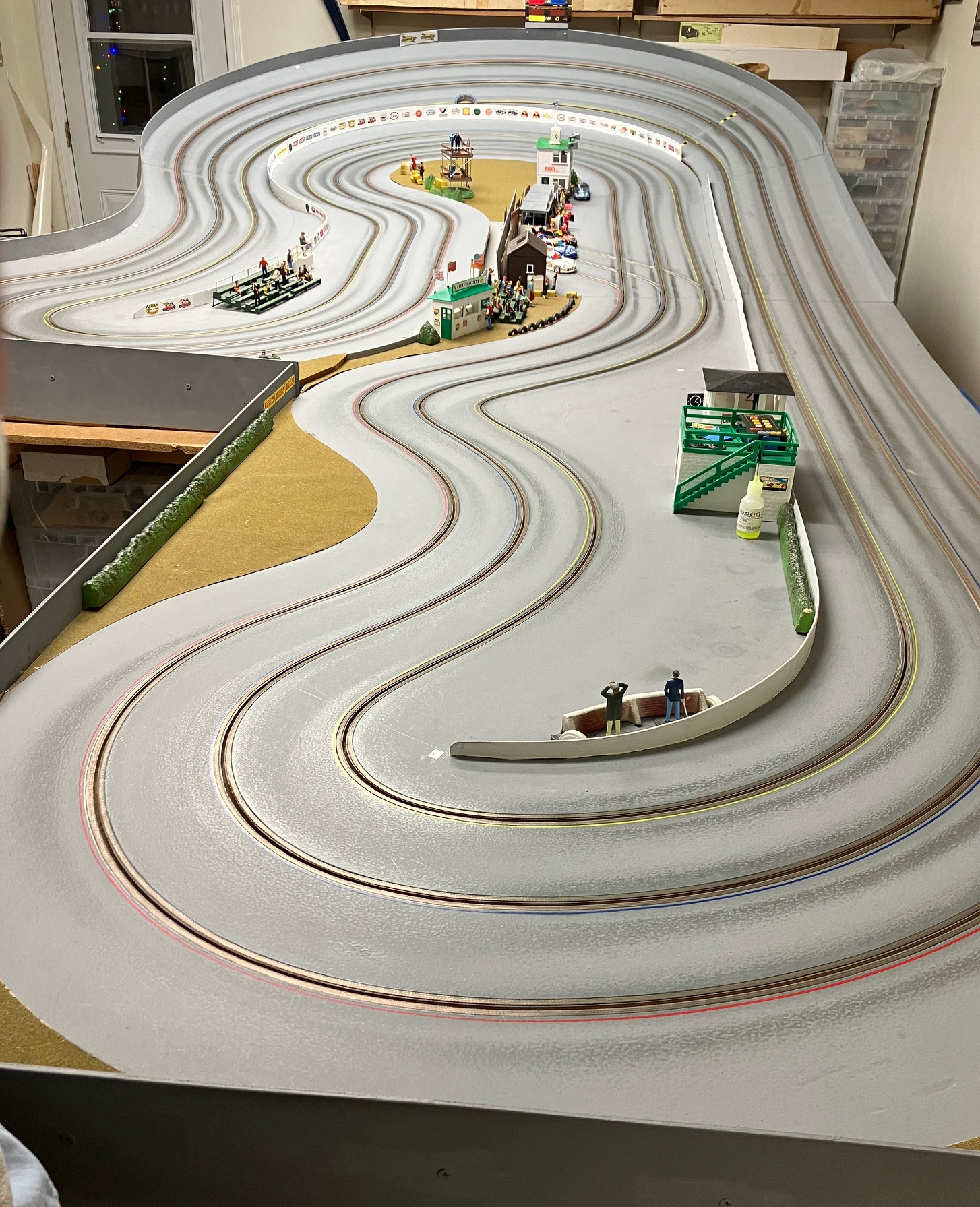 Jim Wiseman's Claremont Raceway
Claremont Raceway was designed for 1/32 club racing and running vintage 1/24 cars, enabled by the 4" lane spacing and wide turn borders. The large banked turn is reminiscent of one on a track the owner raced on in Southern California in 1965-67.
Special attention was given to ease of marshaling in the track design. The track has been everything the owner hoped it could be, from enjoying running a variety of cars alone, to introducing friends and family to slot car racing, and as a gathering place for fellow club members to race.
Jim Wiseman's Claremont Raceway – Photo Gallery
Jim Wiseman's Claremont Raceway – Track Info
| | |
| --- | --- |
| Track Name | Claremont Raceway |
| City Location | Claremont, California |
| Owner | Jim Wiseman |
| Track Builder | Bob Scott, builder, J. Wiseman design |
| Brand or Material | MDR Routed |
| Footprint | 16'x7.5′ |
| Running Lap Length | 55.3″ center lane |
| Lane Spacing | 4″ |
| # of Lanes | 3 |
| Magna Braid Yes/No? | No |
| Lap Counter | DS Lap Counter with Remote Control |
| Deadstrip or Light Bridge? | Deadstrip |
| Power Supply | Separate Pyramid for each lane, 0-20 volts, 25 amp |
| Controllers | Professor Motor |
| Special Features | High Steeply banked turn, LeMans start, and collectible vintage scenery buildings and grandstands |
Page created 01/11/2023