What You Need To Know – Remove the magnet. Everything runs exactly as it comes OEM from the box
See detailed part numbers in image below: only these parts may be used if you need to replace anything, unless otherwise noted
Motor: OEM NSR Long Can King 21 Evo/3 (Purple Label) – 21,400rpm # NSR 3023
Rear Tires: OEM NSR 5284 Supergrip
Front Tires: OEM NSR 5283 Supergrip
Wheels: Rear OEM NSR 5021 "air system" aluminum rears. Front OEM NSR 5283 aluminum fronts. Inserts/hubcaps must be on all time
Guide: OEM NSR 4841
Body: 1/32 plastic body. Cars must have race livery on them with three numbers displayed
Chassis / Motor Pod: OEM NSR 1609EVO Black plastic chassis only, with two body screws. OEM NSR NSR 1283 red plastic Motor pod only, can be mounted with only three out of five mount screws. Set screws that come as OEM with car for front axle and front wing are allowed to be used
Gears: OEM NSR 6327AL Inline 27t plastic/Aluminum OEM 27 tooth crown
On race tracks with high GForce you may experience the rear crown gear grind on the motor shaft. It seems this may be related to the NSR crown design where weaker plastic teeth and any slop is the gear/shaft alignment leans to excessive wear. Be careful to eliminate sideways slop from gears and ensure motor is tightly fitted to chassis
You can use either of two alternate crown gears to replace the OEM NSR crown. All three have black plastic teeth, so it is easy to monitor. You can replace with:

NSR 6327BR Inline 27 tooth crown brass hub
Slot.it Gi27B Inline 27 tooth crown brass hub

No lightened or balanced racing options. No cutting motor shafts
Rear Axle: OEM NSR 4802, 55mm wide
maximum track width of 67mm measured from the outside edge of tires
No removal of brass axle spacers.
Front Axle: OEM NSR 4866, 60mm wide
maximum width of 68mm measured from the outside edge of tires.
No additional spacers to limit axle movement.
May be adjusted for ride height using provided screws.
Wires/Braids: OEM NSR, can be replaced by any size, color, model, material or brand. Slot.it braid part number SP14 and Slot,it wires part number SP22 work well if items need replacing.
Bushings: OEM NSR can be replaced by any size, color, model, material or brand. No ball-race bearings any sort are allowed in any class. No offset or spherical bushings.
Ballast / Weight: not allowed in this class
Magnet: must be removed and placed on nearest fridge or donated to the Large Hadron Collider
Lights: you are free to add brake lights or exhaust "flash" lights (Note: I might give you an extra half lap per heat if you add them – just don't tell anyone else)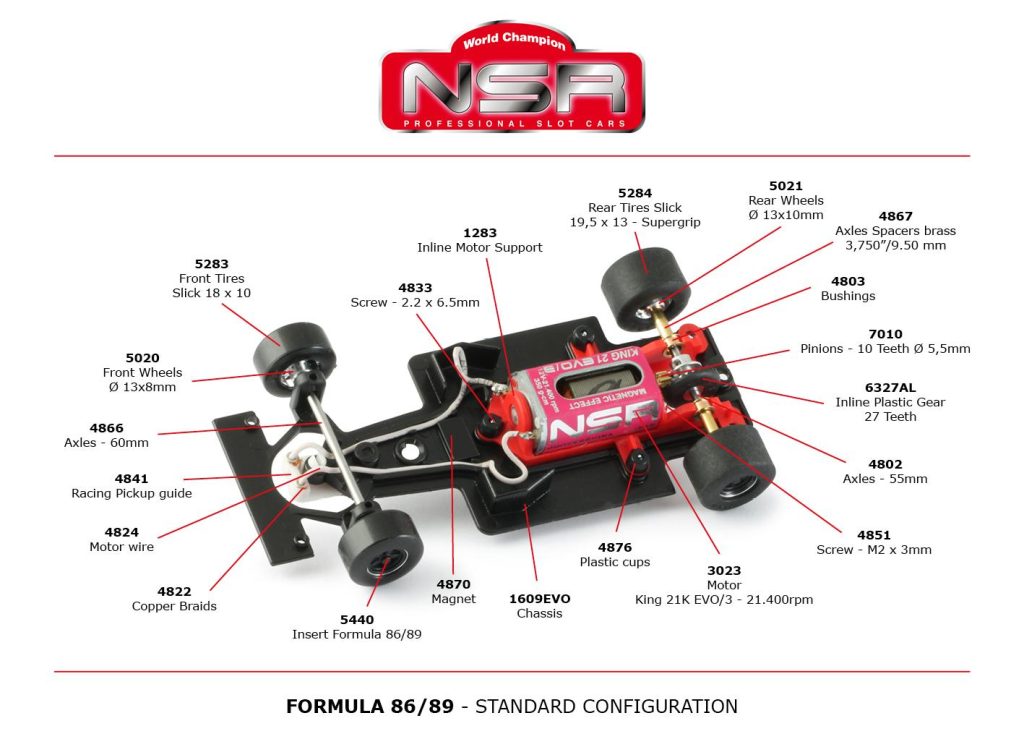 Eligible Cars: From NSR there is one body style but 25+ liveries from which to choose and white kits to allow you to create your own livery. In spirit, this is essentially a stock class "Drivers" championship
Also eligible are hybrids, defined as any plastic or resin bodied period rear engined Formula 1 car running on the class eligible OEM NSR chassis/ drive-train/ wheel/ tire combination.
The cars MUST specifically be approved in advance by Stephen (no exceptions and no other person can allow or disallow a hybrid car once it is approved);
The chassis must sit flush with the body of the car, as it is with all other class eligible cars;
The body must, at minimum, weigh the same as the average of the OEM class eligible cars. For this class that weight is 11 grams and any makeup weight must be added to the inside of the body, not the chassis to avoid any COG advantage occurring.
No need for pre-approval if using an NSR white kit
Pictures of the eligible car body style in the class is below. Below that is a table of (almost) all cars released in this class with a live link to an image of the car. 
NSR Formula 1 1986-1989
Olivetti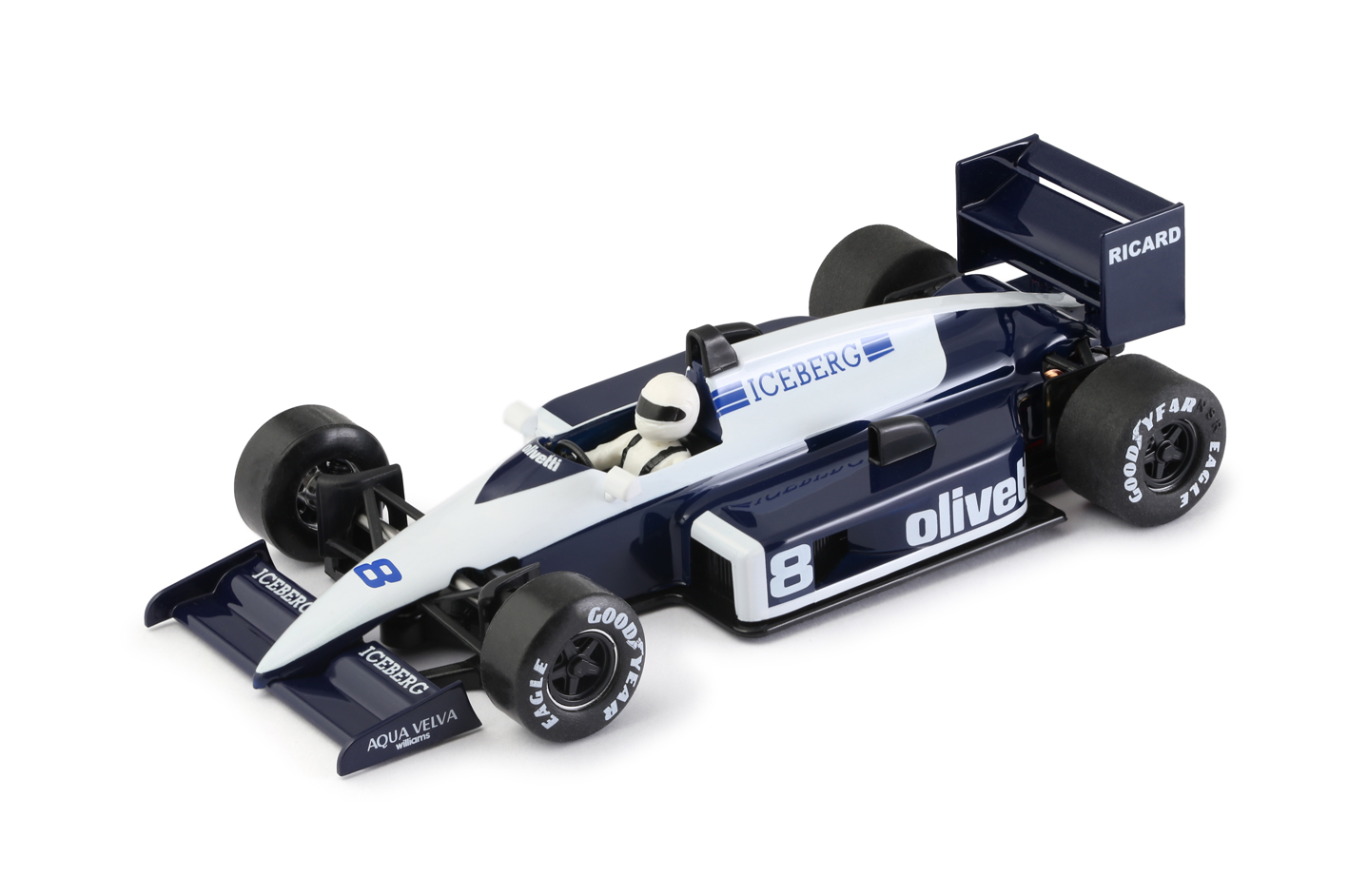 Ferrari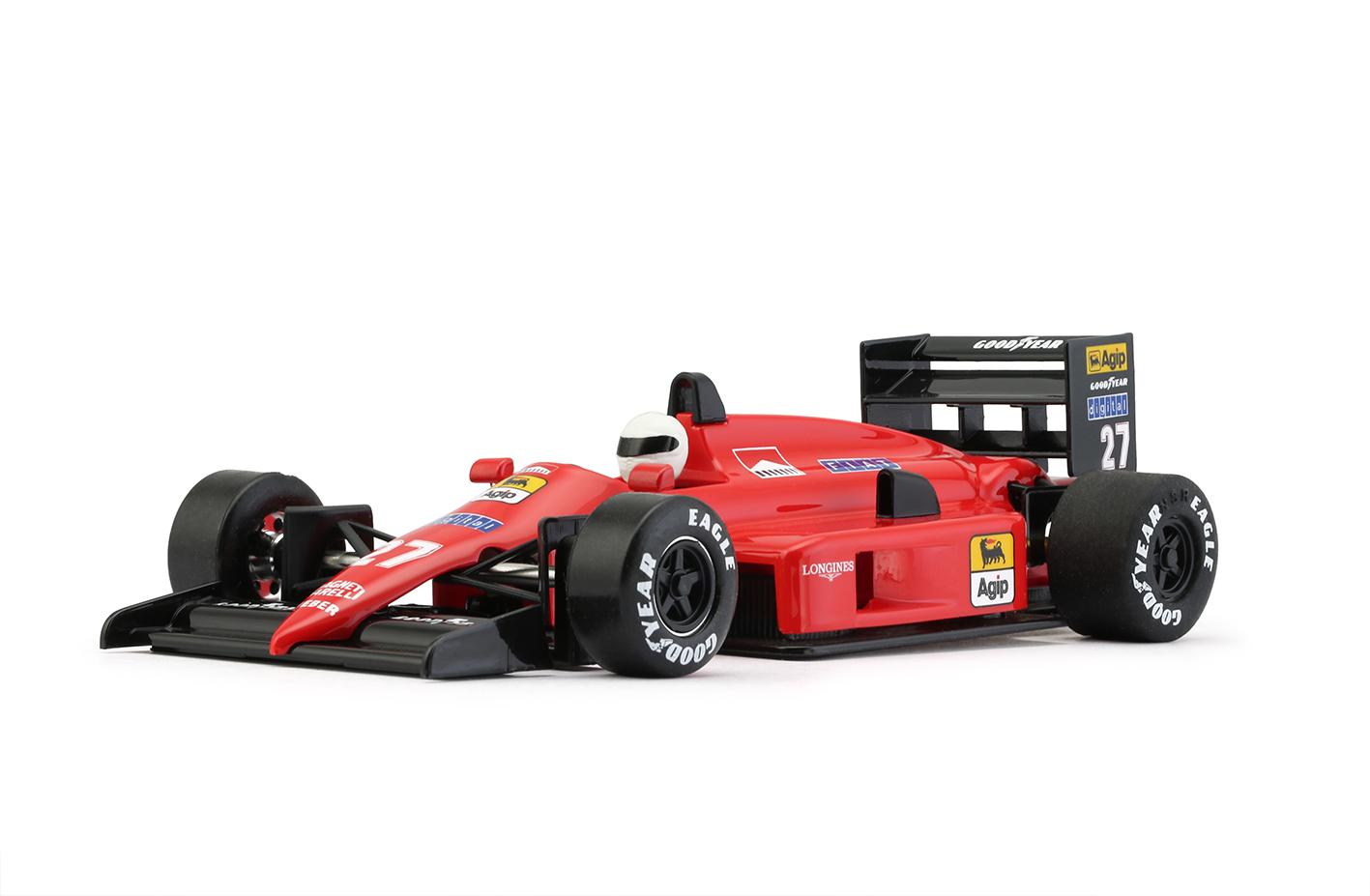 McLaren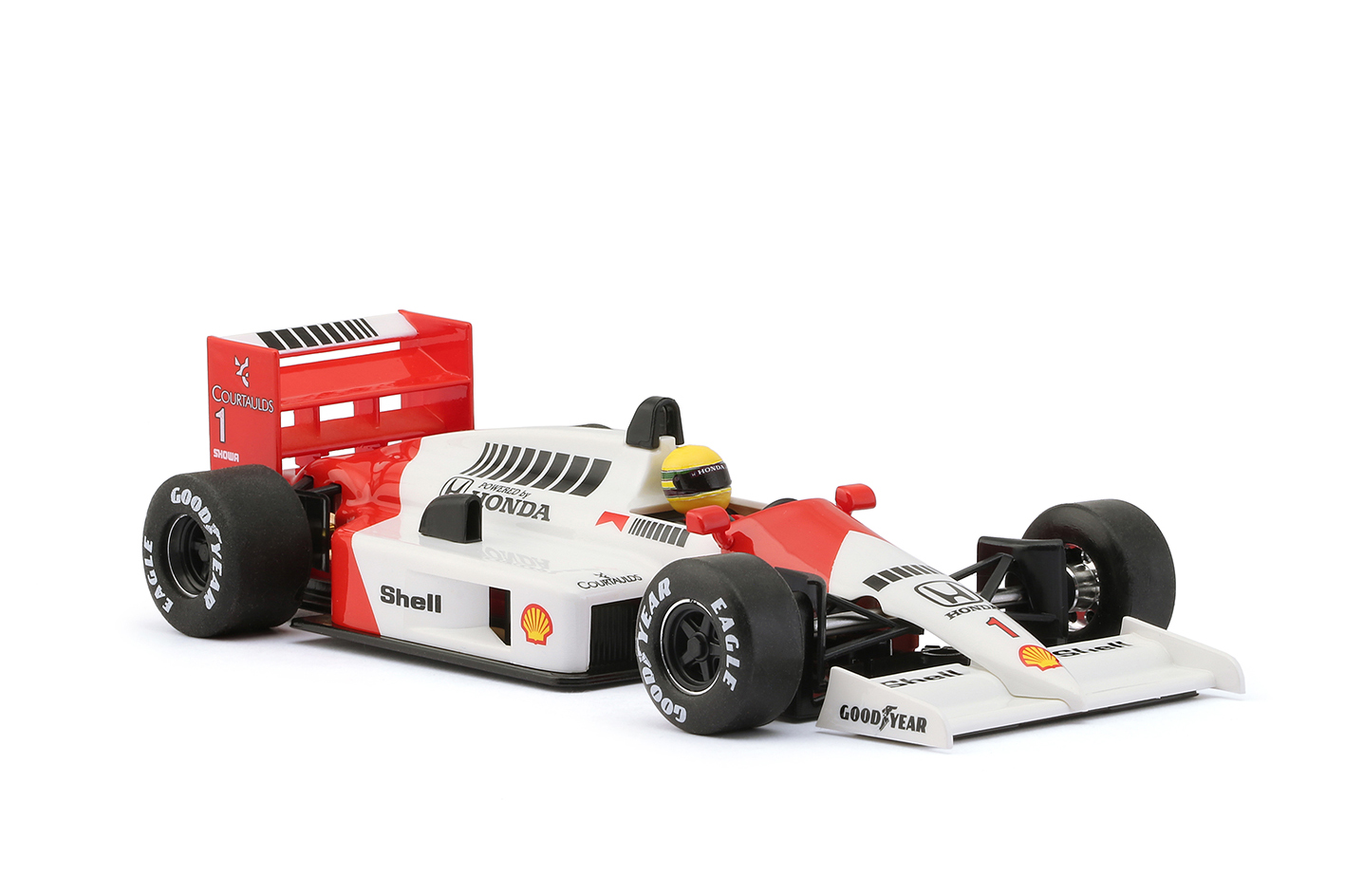 Toshiba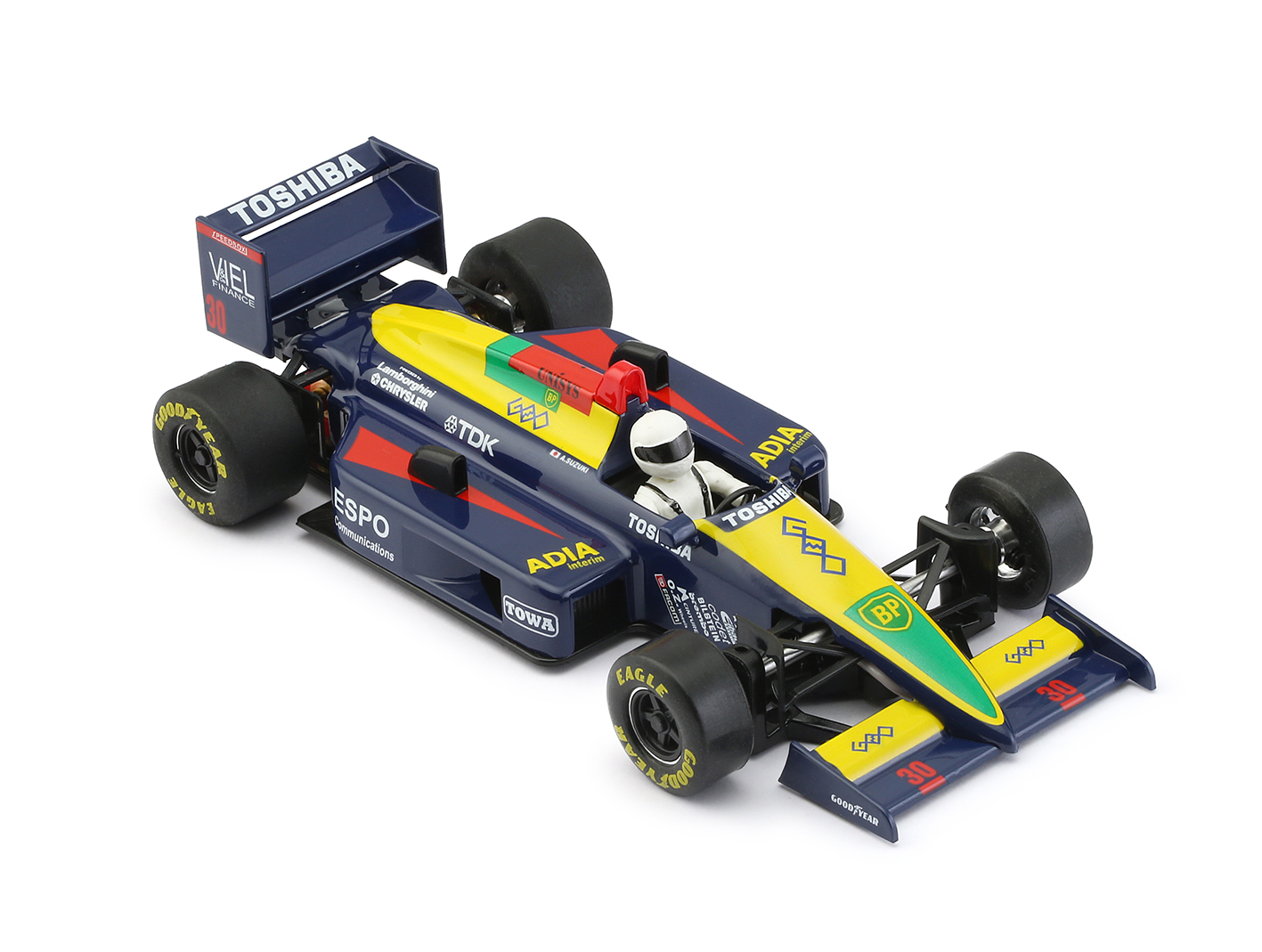 Beatrice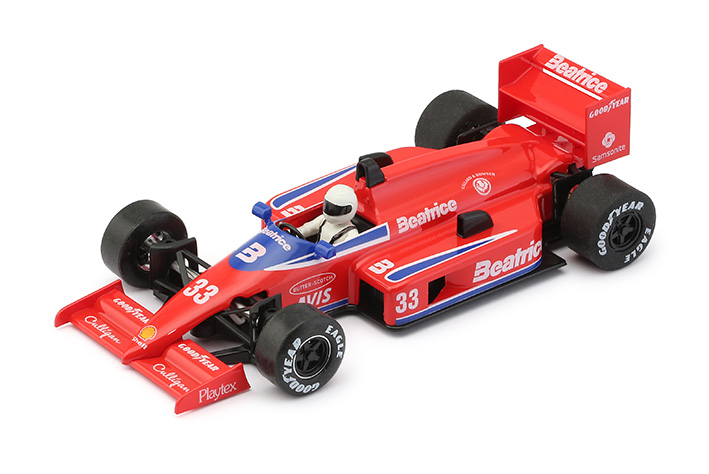 Lotus Camel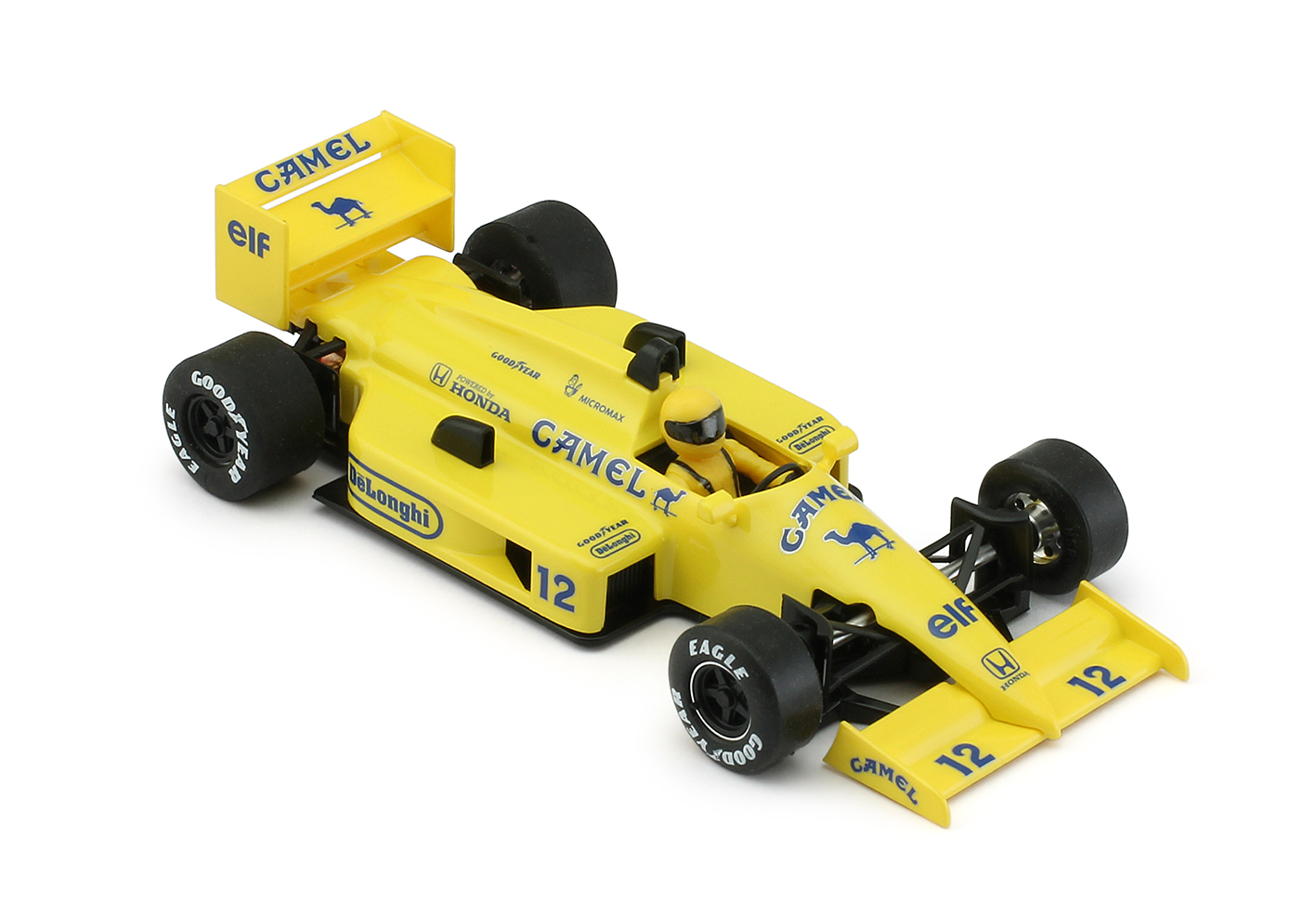 Williams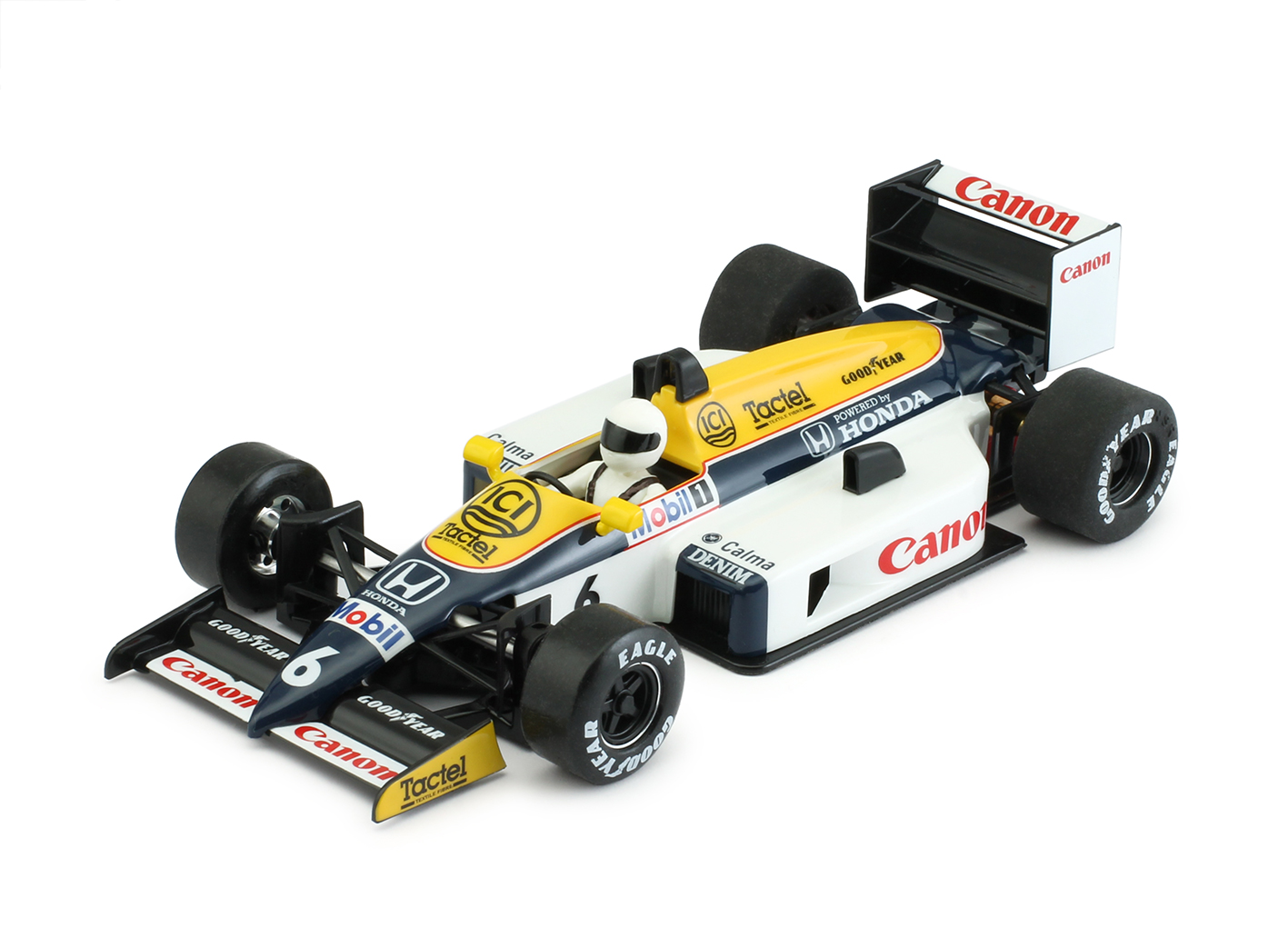 Fondmetal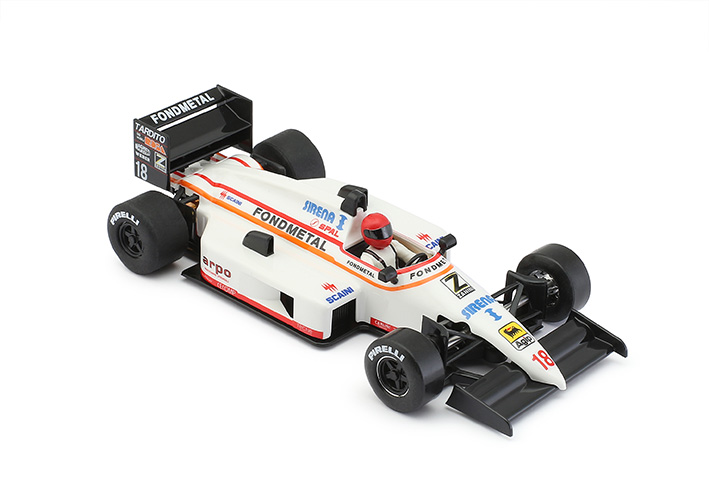 Ferrari Scuderia Italia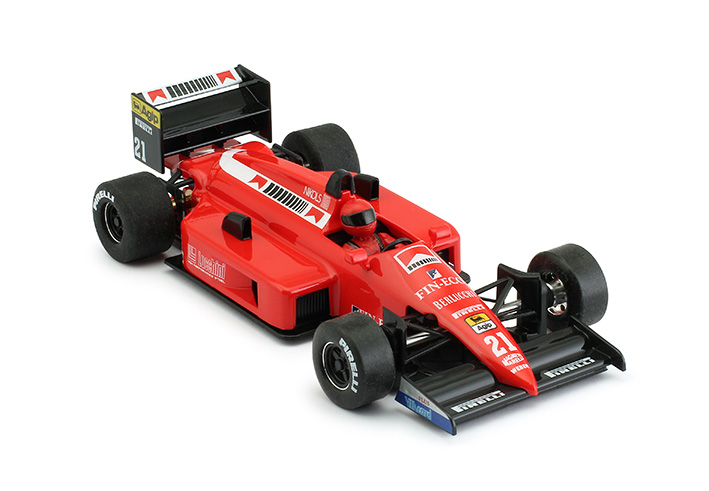 Benetton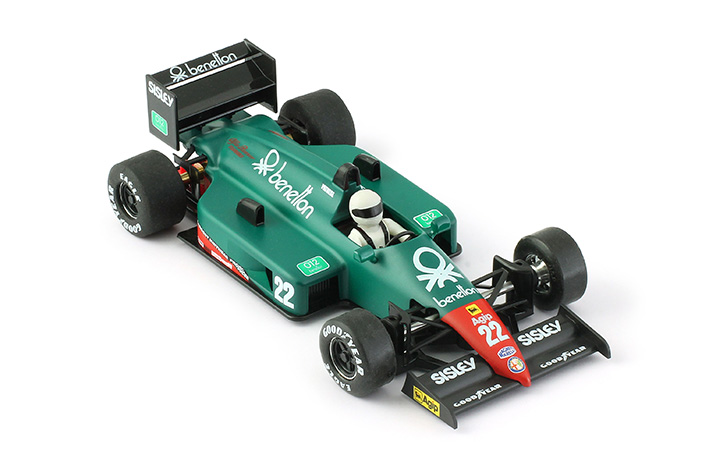 Lotus JPS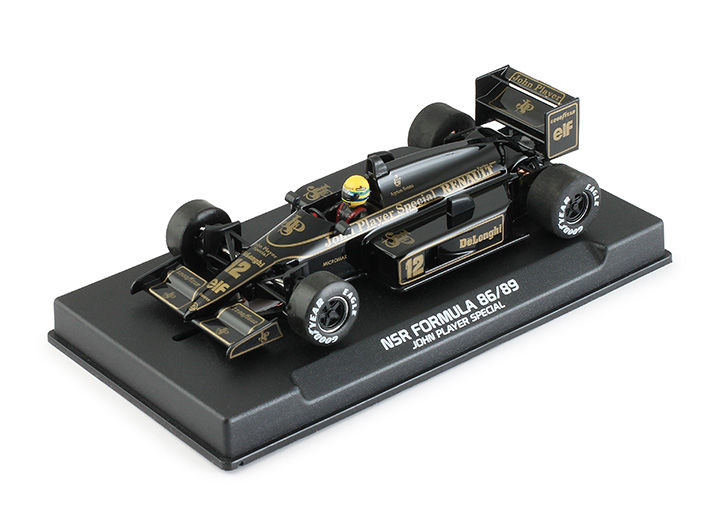 NSR Formula 1 1986-1989
Yr Intro
Code
Car/Livery
Color
Motor
Magnet
Got?
loaner
Count by body type
Formula 86/89 – TBD Grams – 67mm Rear axle width – 95mm Guide to Rear Axle
2020
0118IL
White Test Car
White
KING EVO3 21K
Yes
1
2020
0119IL
Yellow Test Car
Yellow
KING EVO3 21K
Yes
2
2020
0120IL
Silver Test Car
Silver
KING EVO3 21K
Yes
3
2020
0161IL
Green Test Car
Green
KING EVO3 21K
Yes
4
2020
0162IL
White Body Kit
White
KING EVO3 21K
Yes
5
2020
0125IL
EuroBrun Jägermeister #33 Gregor Foitek
Orange
KING EVO3 21K
Yes
6
2020
0126IL
March Leyton House #16 Ivan Capelli
Light Blue
KING EVO3 21K
Yes
7
2020
0132IL
Brabham BT54 Olivetti #8
Blue – White
KING EVO3 21K
Yes
8
2020
0165IL
Brabham BT54 Olivetti #7
Blue – White
KING EVO3 21K
Yes
9
2020
0164IL
Red Italia #27 Ferrari Michele Alboreto
Red
KING EVO3 21K
Yes
10
2020
0146IL
Red Italia #28 Ferrari Niki Lauda
Red
KING EVO3 21K
Yes
11
2020
SET 11
Set of 2 cars McLaren Legends Never Die #1 Ayrton Senna . Ltd ED. of 600
White – Red
KING EVO3 21K
Yes
12
2020
SET 11
Set of 2 cars McLaren Legends #2 Alain Prost. Ltd ED. of 600
White – Red
KING EVO3 21K
Yes
13
2021
0162IL-B
Blue Body Kit
Blue
KING EVO3 21K
Yes
14
2021
0162IL-G
Green Body Kit
Green
KING EVO3 21K
Yes
15
2021
0162IL-R
Red Body Kit
Red
KING EVO3 21K
Yes
16
2021
0162IL-Y
Yellow Body Kit
Yellow
KING EVO3 21K
Yes
17
2021
0182IL
'90 Larrousse Lola-Lamborghini V12 LC90 Toshiba #29 Éric B.
Blue – Yellow – Green
KING EVO3 21K
Yes
18
2021
0181IL
'90 Larrousse Lola-Lamborghini V12 LC90 Toshiba #30 Auguri S.
Blue – Yellow – Green
KING EVO3 21K
Yes
19
2021
0193IL
'86 Haas Beatrice-Lola THL2 #16 Patrick Tambay
Red – Blue
KING EVO3 21K
Yes
20
2021
0194IL
'86 Haas Beatrice-Lola THL2 #33 Alan Jones
Red – Blue
KING EVO3 21K
Yes
21
2021
0201IL
'87 Lotus 99T Camel #12 – Ayrton Senna
Yellow
KING EVO3 21K
Yes
22
2021
0202IL
'87 Lotus 99T Camel #11 – Satoru Nakajima
Yellow
KING EVO3 21K
Yes
23
2021
0214IL
'87 Williams FW11 Canon #5 Nigel Mansell
White – Blue – Yellow
KING EVO3 21K
Yes
24
2021
0215IL
'87 Williams FW11 Canon #6 Nelson Piquet
White – Blue – Yellow
KING EVO3 21K
Yes
25
2022
0247IL
89 Osella F1AM Fondmetal – Nicola Marini #17
White
KING EVO3 21K
Yes
26
2022
0248IL
89 Osella F1AM Fondmetal – Piercarlo Ghinzani #18
White
KING EVO3 21K
Yes
27
2022
0265IL
91 Scuderia Italia – JJ Lehto #22
Red
KING EVO3 21K
Yes
28
2022
0266IL
91 Scuderia Italia – Emanuele Pirro #21
Red
KING EVO3 21K
Yes
29
2022
0279IL
83 Alfa Romeo 184T – Benetton #23 – Eddie Cheever
Green – Red
KING EVO3 21K
Yes
30
2022
0280IL
85 Alfa Romeo 184T – Benetton #22 – Ricardo Patrese
Green – Red
KING EVO3 21K
Yes
31
2022
SET 21
Historic Line '85 Lotus Renault 97T John PLayer Special – Ayrton Senna #12
Black – Gold
KING EVO3 21K
Yes
32
2022
SET 22
85 Lotus Renault 97T John Player Special – Elio De Angelis #11
Black – Gold
KING EVO3 21K
Yes
33
Page updated 01/07/2023