The FarrOut Collection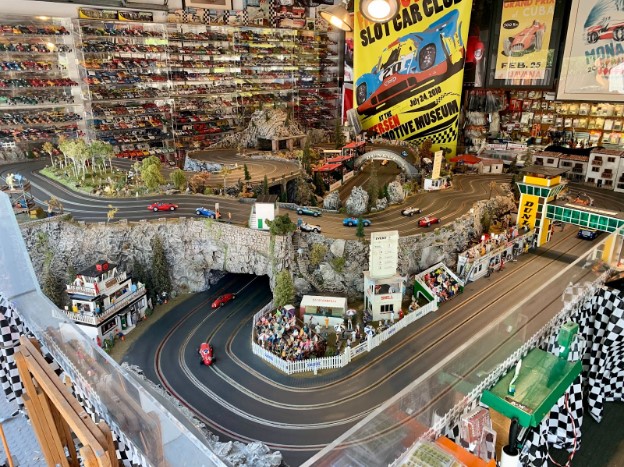 The Farrout Raceway is a 12 ft by 10 ft landscaped originally Scalextric Classic now routed MDF 55 ft long 4-Lane using a MRC variable (0-18v) train transformer for each lane. That is mainly so I can vary the power for my kids to play together with their friends.
Originally laid out as my favorite corners from 2 decades of making floor tracks at my parents' home, the track got its first version of this layout in 1995 as Scalextric on a board table. When moving to this home in 1999 it got basic landscaping, still using Scalextric Classic track. The new routed wood and Hydrocal scenic plaster mountain version – the current iteration- was built over 16 weekends January to April 2014. Since then I have just tinkered with it a bit.
Buildings are a mixture of vintage Scalextric, The 400+ people are a mix of vintage Scalextric, MRRC, current Carrera and SCX, a couple of old Tamiya army men and the Pit Babes from Slot.it in 1/32 scale as well 1/43 and 1/72 scale people from train manufacturers in various forced perspective areas of the track. Over 400 trees have been planted so far!! Race control and timing is through a pair of DS-Slot Stop'n'Go and DS-300 boxes (linked to a now rarely used PC-LapCounter software).
Click on any picture below for a larger version.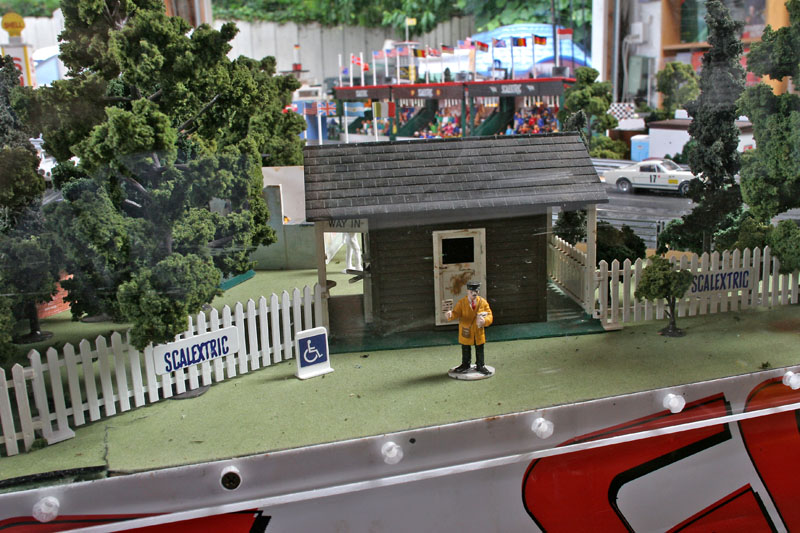 FarrOut Raceway – Track Info
| | |
| --- | --- |
| Track Name | FarrOut Raceway |
| City Location | Glendale |
| Owner | Stephen Farr-Jones |
| Track Builder | Stephen Farr-Jones – Bill Schneidewind (sp?) |
| Brand or Material | MDF Routed Wood, Hydrocal |
| Footprint | 10'x12′ |
| Running Lap Length | 65″ x 20m |
| Lane Spacing | Std Scalextric: 3″ 17.8cm |
| # of Lanes | 4 |
| Magna Braid Yes/No? | Yes |
| Lap Counter | DS Slot |
| Deadstrip or Light Bridge? | Light Bridge |
| Power Supply | Individual lane power by 4 MRC Train Power 6200, bi-directional , 0-18.5VDC 35VA, 18VAC 60VA |
| Controllers | Adjustable Professor Motor |
| Special Features | (More than a little) landscaping |
Page Updated 01/11/2023