Celebrate Slot Car Racing at the Petersen Automotive Museum
with the FarrOut Slot Car Club
and the MSFriends Charity Organization
Celebrity Guests
Photo Auction
12 Slot Car Tracks
Auto Concours
Food, Drink, Fun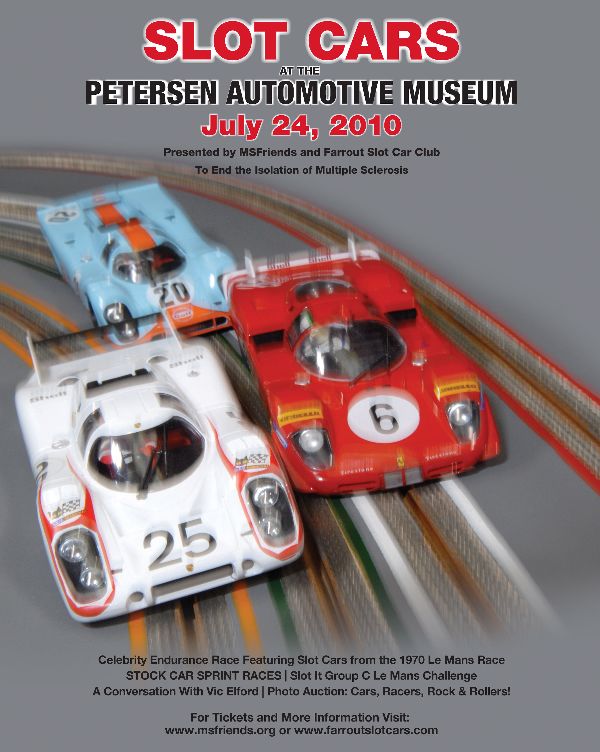 Fund Raiser for MSFriends
Slot Car Racing and Rock'n'Roll/Auto Photo Auction
at the Petersen Automotive Museum
July 24, 2010, 11am-7pm12 Slot Car TracksVic Elford Racing and SpeakingRock for MS Photo AuctionFriendly Concours d'ElegancePlease join us in our Fight to End the Isolation of Those Affected by Multiple Sclerosis

Buy your tickets here >>>
The FarrOut Slot Car Club is organizing a fundraiser in Los Angeles around the theme of Auto Racing to support MSFriends, a California-based non-profit, 24/7 peer support helpline whose services help improve the quality of life for people living with Multiple Sclerosis. Join us at the Petersen Automotive Museum from 11:00AM to 7:00PM on Saturday, July 24th, 2010. We will be creating a fun alternative to the traditional fundraiser. This year marks the 40th Anniversary of the classic 1970 Le Mans 24 Hour Endurance Race where Porsche beat Ferrari. Now it's time for a rematch, but in 1/32nd scale. For many car enthusiasts, slot cars were their first taste of Car Culture. Our goal is to raise awareness about Multiple Sclerosis, while bringing slot cars and slot car history to the Petersen Automotive Museum, and having BIG FUN doing it!

Events Include:
– A TWO HOUR 1970s LE MANS STYLE CELEBRITY SLOT CAR ENDURANCE RACE FEATURING FOUR TEAMS. It's not the real thing, but we hope it's the next best thing. We're sending out invitations to a few high profile folks who might like to go wheel-to-wheel against Vic Elford.
– 12 SLOT CAR TRACKS INSIDE THE PAVILION TENT AT THE PETERSEN: Different Ticket Packages For Different Tracks. Got Skills?
– A CONVERSATION WITH VIC ELFORD: In a relaxed atmosphere surrounded by friends and fans, Vic Elford will recount his exploits in motor racing.
– STOCK CAR SPRINT CUP RACES: The public is invited to sign up and match skills. This series will feature elimination races for adults and kids.
– LE MANS SLOT.IT SLOT CAR CHALLENGE: 1980s Group C Cars: Slot car clubs from around the country will be invited to match racing skills.
– ROCK FOR MS CONCOURS d'ELEGANCE AT THE PETERSEN MUSEUM: Porsche, Ferrari, and other car clubs from Southern California are invited to participate in this fundraiser for a FRIENDLY "Hands Off" judging competition for the best looking car. On this day it's all about the fun.
– 2010 ROCK FOR MS PHOTO AUCTION: Highlighting Fast Cars and Rock and Roll with great photography of cars and car culture.

BE THERE!